Let there be light !

It doesn't matter if you are looking for a pressure lamp or a battery powered lamp we are confident that we will have the right lamp for you.

If you are looking for a battery powered headlamp and you want the best, then one from the Petzl range will give you years of quality service with an amazing amount of light output for such compact units.

Pressure lamps are mechanical units that run on liquid fuels (usually paraffin) and with a little care and attention can genuinely last a life time.

The Petromax brand is our favourite for pressure lamps and this company has been around since the turn of the 20th century so you can be sure they know their stuff. They are constructed from brass so the quality is assured.

We stock thousands of spares for pressure lamps from the smallest screw to a complete shell. We know pressure lamps back to front so if you need any advice or help then please give us a shout.

Remember - Invest in quality and reap the rewards for years !
&nbsp
Lamps and spares from Petromax, Anchor, Hipolito, Coleman, Magnalux, Optimus, Primus, Tilley, Hurricane, Petzl, Silva, Yellow Stone, Tiga, LED, Duracell, Sunlite, Eveready, Vapalux and more ...

We are continually adding to our ranges.
Hot Gossip !
Mackerel are in all over the SE Coast.
---
Have you tried fishing at Sandgate. It's a clear venue with the choice of fishing within the rocks if you fancy it. Also plenty of parking - what more could you want.
---
We have Sidewinders in stock. A decent selection of sizes, shapes and colours.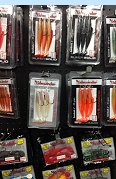 ---
The Summer might be ending soon but the good thing about that is that the Cod will not be far away.