Sea Fishing at Maidstone Angling Centre ...

We are very fortunate here at the shop as being based in Maidstone allows us to fish the South East corner of Kent whatever the conditions might be.

There is always somewhere on the South East coast to go and find some shelter and reap the rewards of our great coast line.

It doesn't matter if the wind is from the North, the East or Southerly we can always fish for Bass, Bream, Cod, Conger, Dab, Dogfish, Flounder, Garfish, Mackerel, Mullet, Plaice, Pollack, Pouting, Rockling, Scad, Silver Eel, Smoothhound, Sole, Turbot, Whiting and more.

At the shop we have up to the minute reports coming in to us so we always know where is fishing and what's being caught - want to know? - just ask !

With decades of experience in Beach, Boat or Estuary fishing we can help.

We stock all the major brands and maybe a few specialists ones that might be new to you. Give us a call, drop us an email or pop in.
&nbsp
Directions from the M20 ::
Come off the M20 at Junction 6, take the Chatham road [A229] signposted for Maidstone. Continue along this road [Royal Engineer's Rd] until you come to a large roundabout with a pub on your Left hand side called the White Rabbit. Take the first exit from this roundabout and continue for approx 50 yards until you come to another roundabout. Take the first Left [Sandling Rd]. Continue along this road for approx 100 yards and take the first Right turning [Hope St]. Turn left into Scott St and then the first Left into Perryfield St. We are 50 yards down this road on the right. ** From Detling [A249] join the M20 at Junction 7 and leave at Junction 6 the follow directions as above. ** From Bluebell Hill [A229] keep going until you come to the White Rabbit pub roundabout and follow the above directions from there. SatNav ME14 2SY or click map. We have plenty of easy parking with 14 spaces available for customers. Why not come and pay us a visit. To contact us click here.
Hot Gossip !
Mackerel are in all over the SE Coast.
---
Have you tried fishing at Sandgate. It's a clear venue with the choice of fishing within the rocks if you fancy it. Also plenty of parking - what more could you want.
---
We have Sidewinders in stock. A decent selection of sizes, shapes and colours.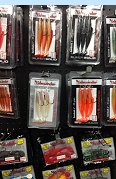 ---
The Summer might be ending soon but the good thing about that is that the Cod will not be far away.